FACT TOOL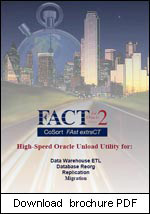 Fact is a fast data extraction tool used for load data in Oracle and DB2 tables:
High volume data loading for ETL and Data base reorganizacion.
Huge tables data extraction for data base migration.
Replication between source tables and plain text files.
Interacts with Cosort to generates metadata and heavy data load with SQL*Loader.
FACT advantages
Fact Permits both, ETL users and DBAs load and reload tables fastest and handiest than other tools and products, inclusive SQL*Loader and Oracle export utility.
SQL*Plus was designed for management of small Oracle data sets, therefore when it tries to deal with big data loads the response time dramatically decreases; thus, FACT is the solution.
Fact is 5 to 7 times faster in data processing depending the used hardware.
Processes combined simultaneously on ETL:
Sorting
Merging
Appending
Data Type Conversion
Calculations
Reporting
FACT using SORTCL and SQLLDR is 5 to 7 times faster that Oracle INSERT.
FACT and business benefits
Increases data availability for Business Intelligence.
Holds a Warranty of free operation errors SLA (Service Level Agreement).
Minimizes Software and Hardware updation spents
Enhances speed and frame time of data migration for CRM, ERP and SCM.
Frees staff from management of large data volumes.
COSORT and FACT combination achieves great performance, data manipulation and management,as illustrated below.