ROWGEN TOOL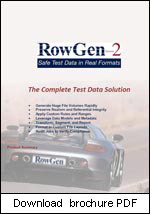 RowGen is a Software Product from IRI Inc., it's a whole testing solution, capable of generating random values according to user specification. You can test all your systems and applicaiton without interfere with production environments and avoiding the time for request of data movement between production and test environments.
Main Attributes:
Quick generation of large volumes of data.
Maintaning Referencial Integrity
Application of ranges and bussiness rules
Supporting for Data and Metadata modeling
Transforms, segments and generates reports
Generates customized client files
Correct termination of generation work
Benefits
Closed to data privacy law
Preserves referencial integrity
Observance business rules
Avoiding spend data base resources
NO complex programs for generation
Reduces development cost and time
Reporting of testings
Interacts with Data Warehouse
Generates data layouts
Quality Assurance of testings
Generates several outputs
Graphic Interface
RowGen provides a friendly graphic interface to manage and operates the product. Also RowGen has scripts wizard to generate more fast and easy the codification of test structures.
Row Gen supports DDL of the followed data base providers for test data generation:
Oracle
Microsoft SQL Server
Teradata
IBM DB2 UDB
Sysbase
Informatica